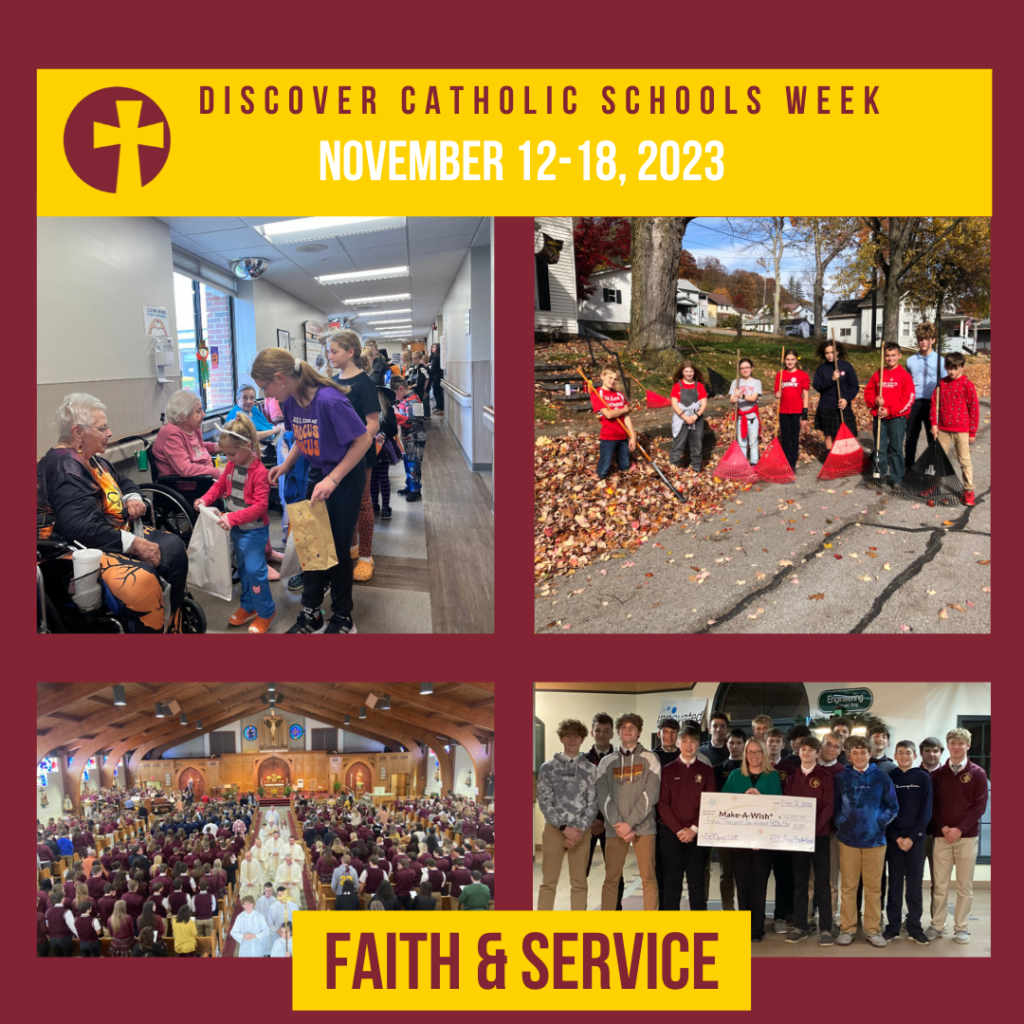 Discover Catholic Schools Week: Faith & Service 
There are ever-present reminders to our students that God is part of all we do. Beyond the visible sacramentals of our faith, worship and prayer are part of every school day. Students come to know the person of Jesus Christ by learning and living their faith in action through service. Faith formation is woven into the fabric of a Catholic education.
At St. Marys Catholic Elementary School, the spiritual dimension of the school is carried out through various activities, such as daily prayer, personal prayer, prayer lists, weekly Mass, reception of the sacraments, and various liturgical services. Beginning in preschool, all students participate in formal religion classes. The study of the Bible is incorporated into the curriculum. Students are also involved in school-wide service projects. A few of the yearly community service projects held at the elementary school include visiting the area's assisted living facilities and fundraising for the local fire department and animal shelter. 
At St. Leo School, along with the daily formal classroom instruction that provides the fundamental principles of our faith, Saint Leo Magnus Church allows our children to participate in various liturgical services that help them grow spiritually. Adoration is available every Tuesday and Thursday. Rite of Reconciliation is provided three times per school year. Mass is offered for grades K-8 every Friday, Holy Days of Obligation, and one additional day a week for each class grades 1-8. Stations of the Cross are offered every Friday during Lent. The Floating Rosary is held in October to celebrate the Feast of Our Lady of the Rosary, and May Crowning is held annually. Each fall, middle school students rake yards in their community as part of their service to others. 
St. Marys Catholic Middle School and Elk County Catholic High School serve the Church through active ministry in our weekly liturgies. Students serve as Eucharistic Ministers, Altar Servers, Readers, Greeters, and in Music Ministry. Service to the school and community is a daily part of living our Catholic Faith at Elk County Catholic School System. This service takes place in many forms, from school-wide collections to class retreats to the high school service hour program and beyond. Each year, the school works with organizations such as the Make-a-Wish Foundation, Project Gifts for Elk County, and the Christian Food Bank to help fundraise for their organizations. 
At Elk County Catholic School System, our students are living their Catholic faith every day through service!